[ms_heading style="border" color="#dd3333″ border_color="" text_align="center" font_weight="400″ font_size="36″ margin_top="0″ margin_bottom="0″ border_width="5″ responsive_text="no" class="" id=""]" Your Demand Create Our Products"[/ms_heading]
Who We Are ?
We are international rubber experts providing rubber moulded product & solutions with high-performance & high-precision parts.
We are Thailand based company specialized in designing and manufacturing rubber mouled parts to serve most industrial markets, especially in automotive, electrical appliances and petrochemical valves & pumps industries with support from responsive customer services, expertise engineer and R&D teams,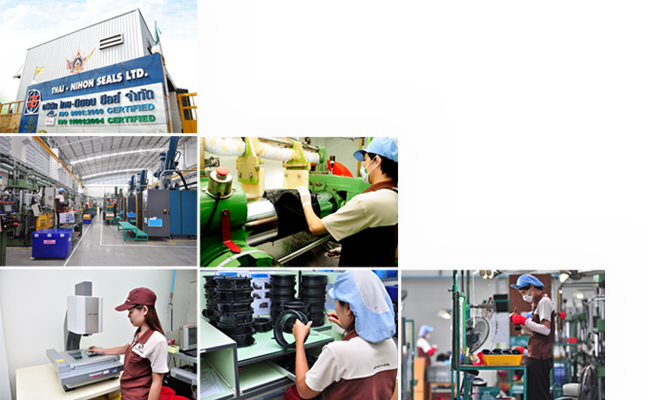 Where We've Been ?
Thai-Nihon Seals Ltd. (TNS) was founded since 2001 in Sriracha, Chonburi,Thailand aims to substitute imported rubber parts and export high-quality products to the global market.we are providing high-performance rubber molded parts for pump & valve parts then diversified to automotive, industrial electronics, and customized parts from customer-oriented and technoloty-oriented stand points, we offer the part of high standard focusing on reliability, services and meeting our customer needs.
Where We're Going
We are international rubber experts dedicated to moves by designing, prototyping, engineering and manufacturing technologies that make our products more efficient and more precision through state-of-the-art & automation compression, injection & Silicone mixing technology that integrating a Quality Management System and supporting our rubber formulation & R&D capabilities for being a leading rubber products & solution provider that meet or exceed customer expectations.
Capability & Facility
Compression Facility
Injection Facility
Silicone Mixing Facility
Cryogenic Facility
Oven
Microscope
Shore & IRHD hardness tester
Rheometer
Densimeter
Our products were developed from company core value on rubber technology to serve industries with high-performance & high-precision such as Oring, Seal, Gasket, Boot, Bellow, Grommet, Wire seal, Damper, Plug, Diaphagm, Bush, Sheet, Pad or specialty custom designed to suit many applications with our standard & custom compounds of EPDM, NR, CR, NBR, HNBR, ACM, AEM, FKM (Viton) silicone and fluoro-silicone
Certified
Our quality system complied with ISO 9001 : 2015, IATF 16949 : 2016 & ISO 14001 : 2015
Delivery
We can be able to deliver to our value custome all kind of freigh and destination with cost effective desinged incoterms, EX-Work, FCA, FOB, DAP CIF, , etc.